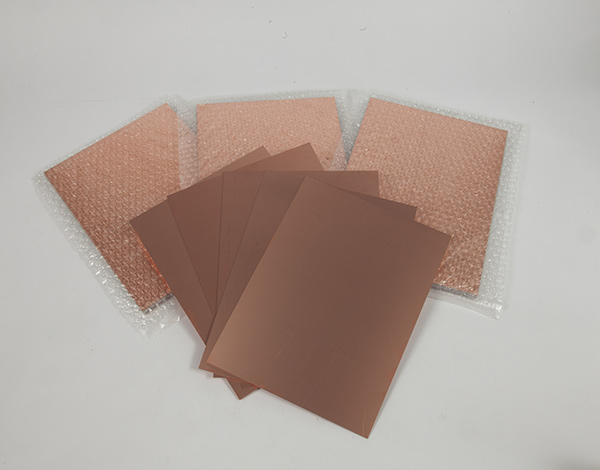 Copper-Clad Laminate-FR4
We are pleased to offer the following G10 - FR-4 Copper Clad Laminate material. Each vacuum sealed package consists of five pieces of copper clad laminate in either 1 ounce or .5 ounce double sided or 1 ounce single sided copper. This PCB Laminate is flame retardant and is comprised of continuous woven glass cloth cured with epoxy resin. The substrate is designated FR4, the flame retardant version of G-10 material.
We offer it in four different varieties. .031" (.80mm) Thickness with 1/1 Copper, .059" (1.50mm) Thickness with 1/1, .5/.5 and 1/0 Copper
We stand behind our products; a representative is available at any time via email or phone to answer any questions or concerns you may have. Know that, quantity discount pricing is available on all of our products. Please take a moment to view our online inventory and use our secure online ordering system to have your tools shipped to you as soon as tomorrow!
Copper

N/A

Size

9" x 12"

Thickness

.100 (2.54mm)

Backup Material 9 x 12 x .100" 5-Pack

Part #

Lam 031-1/1-9x12x5

Copper

1/1

Size

9" x 12"

Thickness

.031" (0.80mm)

9 x 12 x .031" FR-4 1/1 5-Pack

Part #

Lam 059 1/1 9x12x5

Copper

1/1

Size

9" x 12"

Thickness

.059" (1/16")

9 x 12 x .059" FR-4 1/1 5-Pack

Part #

Lam 059 H/H 9x12x5

Copper

.5/.5

Size

9" x 12"

Thickness

.059" (1/16")

9 x 12 x .059" FR-4 .5/.5 5-Pack

Part #

Lam 059 1/0 9x12x5

Copper

1/0

Size

9" x 12"

Thickness

.059" (1/16")

9 x 12 x .059" FR-4 1/0 5-Pack

Part #

Lam 093 1/1 9x12x5

Copper

1/1

Size

9" x 12"

Thickness

.093 (2.38mm)

9 x 12 x .093" FR-4 1/1 5-Pack